Baltimore
14 year old charged as an adult with rape and Murder of 83 year old woman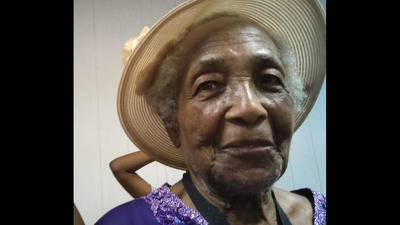 A 14-year-old is charged as an adult in the death of an 83-year-old woman last month, Baltimore police announced Friday.
Police allege that Tyrone Harvin, of the 2400 block of Winchester St., raped Dorothy Mae Neal and then physically assaulted her. She later died as a result of her injuries, police said.
"It's sad all the way around. There's some systematic failure in the 14-year-olds life to allow us to be here talking about him being accused of murder and rape," said police spokesman T.J. Smith at a news conference Friday announcing the arrest. "It's just a very tragic situation all the way around."
Harvin was arrested and charged with first-degree murder.
Smith said Harvin is the youngest suspect city police have charged with murder this year. Suspects as young as 14 are tried as adults for murder and other serious offenses.
Smith said Neal died of blunt force trauma. He alleged that Harvin "beat her to death."
Homicide detectives connected Harvin to the murder as the result of physical evidence found at the scene, Smith said.
Police do not know of a motive at this time.
A woman who answered the door at Harvin's apartment identified herself only as his mother and wouldn't give her name. She said her son has been wrongly accused.
"I'm hurting because I know my son wouldn't do nothing like this. I know my son," she said wiping away tears.
"My son didn't do it," she said. The woman said she did not know the victim.
She said she was frustrated that police have not spoken to her and that her son was questioned by police without her being present.
Neal was found in her apartment about a block from where Harvin lives on Aug. 29, after a concerned neighbor called police.
The neighbor told The Baltimore Sun previously that she grew concerned after she did not see Neal for several days and she called police. She said Neal regularly walked to the bus stop and would make daily trips.
Police went to Neal's apartment in 2300 block of Winchester St., where she was found unresponsive and the victim of an apparent assault.
She was taken to the University of Maryland Medical Center where she died the next day.
The neighbor who called police told The Sun on Friday that she was relieved police had made an arrest. The neighbor did not want her name published out of concerns for her safety.
"I'm glad they caught him," she said. "She's in a better place."
happy wheels
Bilal Ali
September 7th, 2018